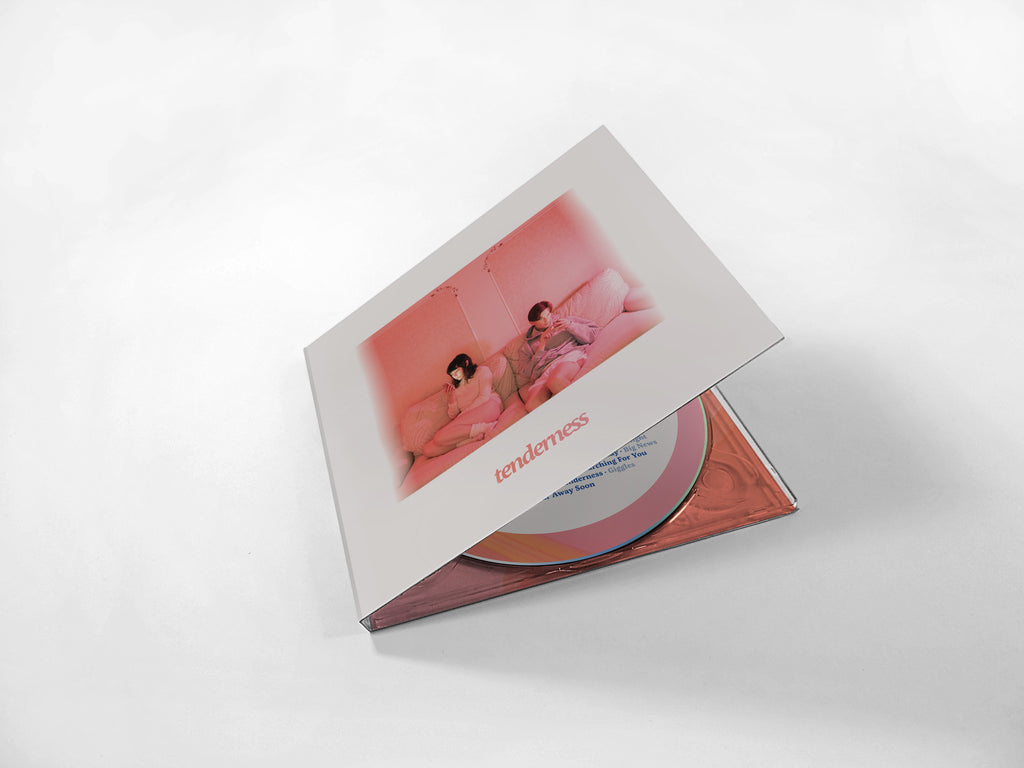 Blue Hawaii is the songwriting, production, and DJ project of Raphaelle 'Ra' Standell and Alexander 'Agor' Kerby. After some four years apart, the duo rekindled their creative flame in 2016 and begun writing music about an intimate relationship Ra was experiencing mostly over instant messaging, sparking ideas about the meaning of closeness in our highly connected world. Tenderness is a concept album which brings forth the challenges of handling relationships online. Maintaining closeness over distance and a need for more tenderness between each other - both in real and virtual life - are important themes in the album's progression. The album draws upon influence from 90's dance tracks and deep disco cuts, often mixed with Ra's acoustic guitar playing. It unfolds like a play and each song being supported by shorter interlude pieces: skits, phone calls, acoustic demos, real life samples and quiet left-turns. "Free At Last" opens as a smooth house jam with a half-spoken vocal, rasping out the bittersweet tear between the end of Ra's last relationship and her budding self-confidence. The listener is guided through the many other phases of letting go: pining, anger, nostalgia, forgiveness, and abandonment, until reaching the title track, "Tenderness". Here the strength which Ra has been searching for is boldly stated: "I learn to greet the day, with as much tenderness as if I were laying in your arms, learning how to be alone without you, and happy to be with me".  
Blue Hawaii have traced a unique path. They made a splash back in 2010 by releasing the sun-soaked EP Blooming Summer, following their loving, dustyrose coloured travels through Central America. Three years quickly passed and they suddenly found themselves touring a break-up record called Untogether (2013), dealing with complex issues surrounding technology & their relationship, living apart while creating together, and seeing their local community torn apart by success and jealousy. Since then, Ra spent much of her time with her band Braids, while Agor has lived in LA and Berlin developing a deeper understanding of dance music production and DJing — something the two are well known to bring to their heavy-hitting live show & DJ sets.  
The cover image of Tenderness is shot in Agor's ex-living room in Glendale, CA - it depicts a couple close to each other, ironically tender, communicating primarily on their phones. This speaks to the contradictory power of technology, wherein people are both alienated and brought together by its use. It offers one view on our preferred method of staying in touch, but not an altogether depressing one for it is somehow also rose-coloured and loving, with room for personal growth. By the end of the record Ra has dismissed her absent lover and finds validation without a need for them - investing newfound energy in being tender to herself.  
Blue Hawaii est le projet d'écriture, de production et de DJ de Raphaëlle dite « Ra » Standell et Alexander dit « Agor » Kerby. Après 4 années à part, le duo a renoué avec sa flamme créative en 2016 et a commencé à écrire à propos d'une relation intime que Ra a vécue principalement par textos ; l'amenant à s'interroger sur le sens d'être proche dans notre monde ultra-connecté. Tenderness est un album concept ­­qui met en avant les défis d'entretenir des relations en ligne. Maintenir une proximité malgré la distance et un besoin de tendresse entre l'un et l'autre ; aussi bien dans la vie réelle que la vie virtuelle ; sont des thèmes importants dans la progression de l'album. Ce dernier s'inspire de morceaux de dance des années 90 et de tubes disco, souvent mixés avec le jeu de guitare acoustique de Ra. Il se dévoile comme une pièce où chaque chanson est accompagnée par une courte interlude : parodies, appels téléphoniques, démos acoustiques, échantillons de la vie réelle, etc. « Free At Last » ouvre l'album comme une douce composition house avec une vocalise à moitié parlée, qui marque une transition entre la fin de la dernière relation de Ra et la naissance de sa confiance en elle. Le public est guidé à travers beaucoup d'autres phases de lâcher prise : attente, colère, nostalgie, pardon, et abandon, jusqu'à atteindre le titre éponyme « Tenderness » qui emprunte des sons house lo-fi. Ici la force que Ra est allée chercher est affirmée clairement : « J'ai appris à commencer la journée avec autant de tendresse que si j'étais dans tes bras, apprenant comment être seule sans toi, et heureuse d'être avec moi ».
Blue Hawaii a tracé un chemin unique. Ils ont fait leur début en 2010 en sortant leur EP baigné de soleil Blooming Summer, suivant leur charmante aventure en Amérique Centrale. Trois ans se sont vite écoulés et ils se sont soudainement trouvés à faire une tournée sur leur album de rupture nommé Untogether (2013), traitant de sujets complexes autour des technologies et de leur relation amoureuse, vivant à part bien que créant ensemble, et voyant leur communauté locale déchirée par le succès et les jalousies. Depuis Ra a passé la majorité de son temps avec son groupe Braids, tandis qu'Agor a vécu à Los Angeles et Berlin développant une compréhension plus personnelle des productions de musique Dance et se produisant en DJ dont les deux sont connus pour apporter en puissance à leurs concerts et DJ sets.
La pochette de l'album Tenderness a été prise dans l'ancien séjour d'Agor à Glendale, en Californie et dépeint un couple près l'un de l'autre, ironiquement tendre, communiquant principalement par téléphones interposés. Cela révèle les paradoxes des nouvelles technologies ; les gens sont à la fois aliénés et regroupés par leur usage. L'album offre un point de vue sur notre moyen préféré pour rester en contact, mais pas que d'une manière dépressive car il peut aussi réconforter et permettre de développer son propre espace personnel. A la fin de Tenderness, Ra s'est affranchie de son amant absent et a trouvé un épanouissement personnel en investissant une nouvelle forme tendresse envers elle-même.
| | | |
| --- | --- | --- |
| 1. | Free At Last | 4:43 |
| 2. | No One Like You | 4:31 |
| 3. | Pregame | 0:19 |
| 4. | Versus Game | 3:53 |
| 5. | Belong To Myself | 3:43 |
| 6. | Prepare For Flight | 0:26 |
| 7. | Younger Heart | 3:30 |
| 8. | Strummin | 0:36 |
| 9. | Make Love Stay | 4:28 |
| 10. | Big News | 1:08 |
| 11. | Blossoming From Your Shy | 2:50 |
| 12. | Searching For You | 3:44 |
| 13. | Do You Need Me | 4:25 |
| 14. | Tenderness | 4:03 |
| 15. | Giggles | 0:17 |
| 16. | Far Away Soon | 0:17 |