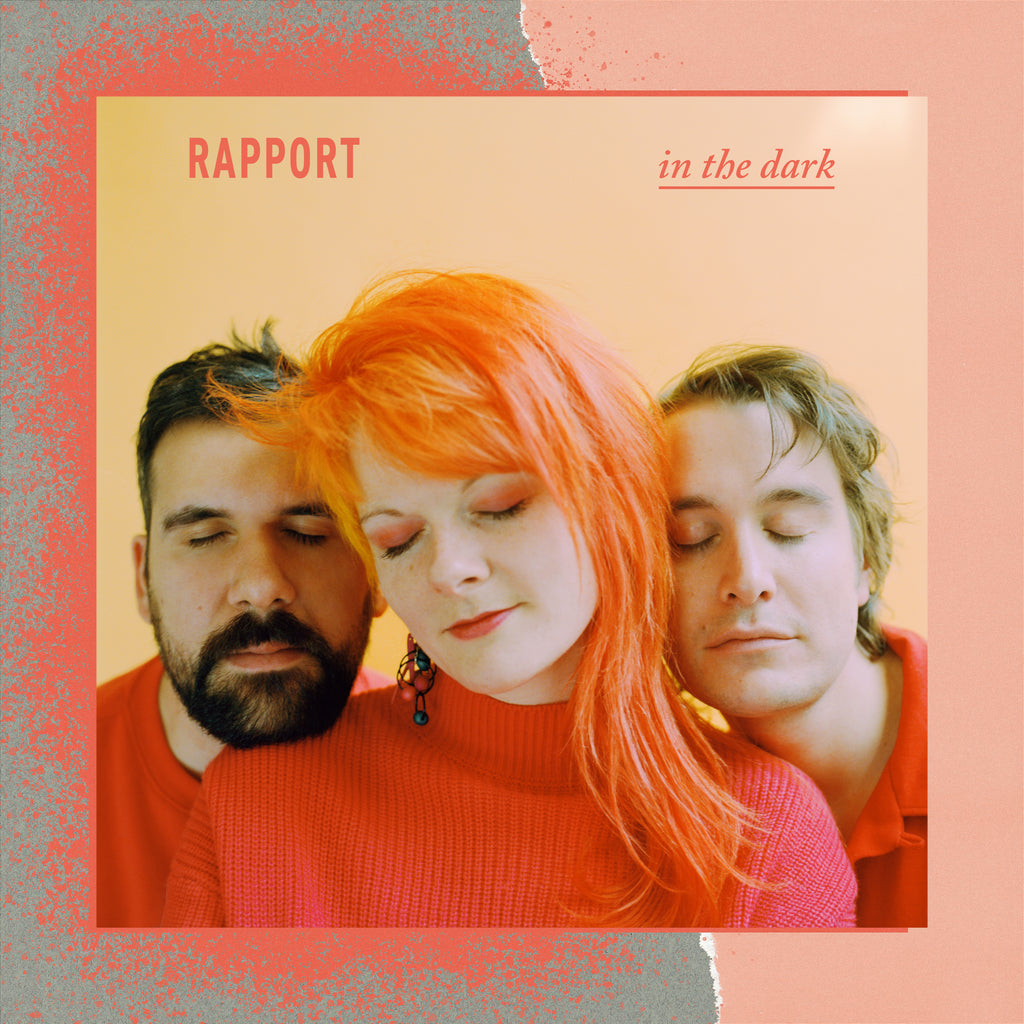 The musical incantations of Rapport are the offshoots of Maddy Wilde's longstanding belief she was unable to be the main songwriter of any music project. The humour of this broken belief lies in the boldness of uncertainty, a feeling that follows Wilde throughout her debut EP, In The Dark. Written and produced in Toronto by Maddy Wilde, Kurt Marble and Mike Pereira, In The Dark is a true expression of Toronto's unending output of genre bending pop music.
Wilde's passion for music and performance began at a young age, with teenage Toronto indie rock band, Spiral Beach. Following the momentum of this project, Wilde went on to play with former band mate Daniel Benjamin in Moon King. Wilde has since developed her songwriting practice, joining Toronto glam grunger, Kurt Marble, in a weekly songwriting endeavour all in the name of fun. Unbeknownst to the pair, a style developed and becoming a band was unavoidable. The duo then turned to longtime friend Mike Pereira. A talented visual artist and multi instrumentalist, Pereira was the missing link that tied it all together.
The trio musically mingle in such a way as to evoke the playful, deeply healing and reflective existence of friendship. Nostalgia for quiet reflection is intermingled throughout the EP's diaristic lyrics. Following the synth stabs and sharp claves, the uncertainty of being young and feeling apathetic swoops it's way past the sweet sticky bubblegum sounds of pop music that could well be the soundtrack to a mid-80's coming of age thriller. Songs like "30 days Down and Out" evoke the feeling of doing loops in your friend's first car inside an empty underground parking lot. Forgotten mementos and Mentos, pushed deeply between car seats. All the lovers you ever loved are pulled into mind along with the impossible longing to hold them all at once, as Maddy beckons not to second guess why an old relationship didn't work out. With reflection, there are moments that move fast and some very slow. Rapport choose to move at their own speed.
Les incantations musicales de Rapport sont le produit de la conviction de longue date de Maddy Wilde selon laquelle elle était incapable de devenir la compositrice principale de tout projet musical. L'humour de cette croyance brisée réside dans l'audace de l'incertitude, un sentiment qui suit Wilde tout au long de son premier EP, In The Dark. Écrit et produit à Toronto par Maddy Wilde, Kurt Marble et Mike Pereira, In The Dark est une véritable expression de la production sans fin de musique pop torontoise.
La passion de Wilde pour la musique et la performance a débuté dès son plus jeune âge avec le groupe de rock indépendant indien de Toronto, Spiral Beach. Suite à l'élan de ce projet, Wilde a ensuite joué avec l'ancien membre du groupe Daniel Benjamin au sein de Moon King. Wilde a depuis développé sa pratique de l'écriture de chansons, se joindre à Toronto grunger glam, Kurt Marble, dans un projet de composition de chansons hebdomadaire tout au nom de plaisir. À l'insu de la paire, un style développé et devenir un groupe était inévitable. Le duo s'est ensuite tourné vers son ami de longue date, Mike Pereira. Un artiste visuel talentueux et multi instrumentiste, Pereira était le chaînon manquant qui liait tous ensemble
Le trio se mêle musicalement de manière à évoquer l'existence ludique, profondément curative et reflétante de l'amitié. La nostalgie de la réflexion silencieuse est mêlée aux paroles diaristiques du EP. Après les coups de synthé et les claves aigus, l'incertitude de la jeunesse et de l'apathie se dissipe loin des sons pop et collants de la musique pop qui pourraient bien être la bande originale d'un thriller des années 80. Des chansons comme "30 days Down and Out" évoquent la sensation de faire des boucles dans la première voiture de votre ami dans un parking souterrain vide. Souvenirs oubliés et Mentos, poussés profondément entre les sièges d'auto. Tous les amoureux que vous avez jamais aimés sont évoqués ainsi que l'impossible désir de les tenir entre vos bras tous en même temps, alors que Maddy ne demande pas de se douter pourquoi une vieille relation n'a pas fonctionné. Avec réflexion, il y a des moments qui bougent vite et d'autres très lentement. Rapport choisit de se déplacer à sa propre vitesse.
| | | |
| --- | --- | --- |
| 1. | In The Dark | 3:30 |
| 2. | All The Other Lovers | 3:40 |
| 3. | My Goodbyes | 2:52 |
| 4. | Thirty Days Down And Out | 3:31 |