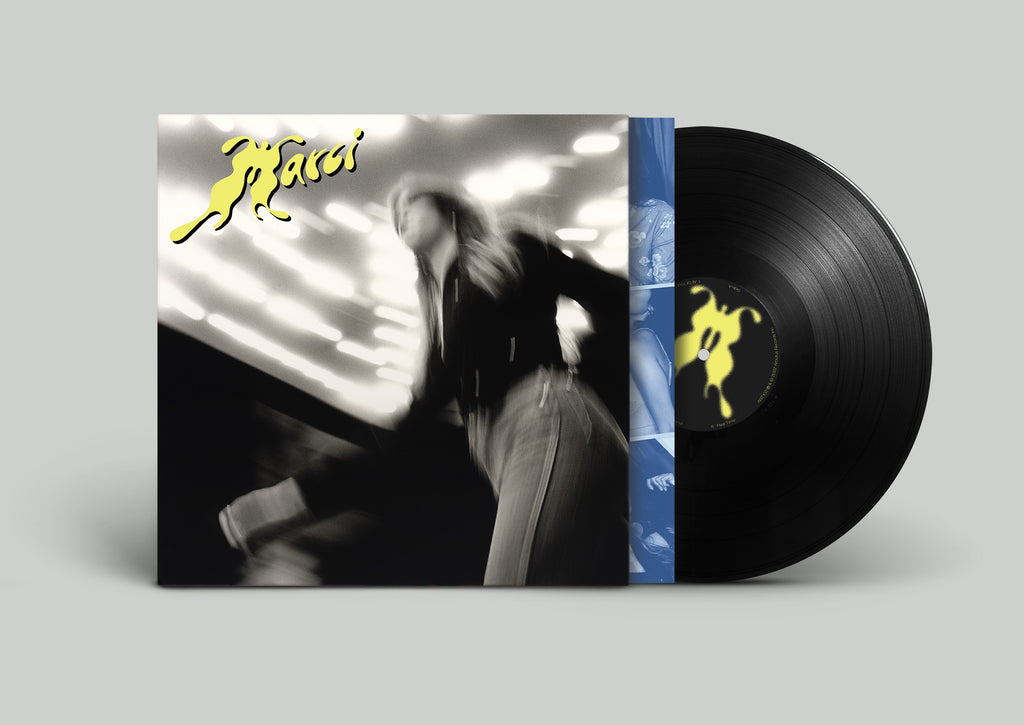 A great pop record is like a great friend: an intimate confidante, a shoulder to cry on, and a partner in crime when you're ready to get dolled up and dance the pain away under the disco ball (or in front of your bedroom mirror.) That's what you'll find on MARCI, the solo debut from Marta Cikojevic of Montreal soft-rock group TOPS, who steps out on her own with a collection of self-assured synth pop songs brimming with sincerity. "I wanted to make people happy. I wanted to make people feel like they could dance even when there was negativity," Cikojevic says.
The confidence of MARCI belies the fact that Cikojevic has never formally written songs before, though she's been making up songs since her childhood in rural Ontario, when she would seek out secret spots to practice singing and record herself into a handheld recorder, and has been playing keyboards in TOPS since 2017. To make MARCI, Cikojevic collaborated with her TOPS bandmate David Carriere, describing him as "a great pop writer" who shared her vision.
Carrierre and Cikojevic approached MARCI with the idea that they wanted to craft hits—catchy and danceable, but emotionally honest and down-to-earth. The record was put together over the course of a year in a Montreal apartment reminiscent of a 1993 pawnshop, full of synthesizers and obscure instruments dating back to the 1980s. The songs were written on Rhodes and bass and then fleshed out with harmonies, guitars, samplers, and FM and analogue synthesizers. The result is music that touches on musical hallmarks of hit songs of the past, but still sounds sharply futuristic. Along with Carrierre and Cikojevic, MARCI features Mitch Davis, Rene Wilson, and Austin Tufts (Braids) on drums, and Chloé Soldevila (Anemone), Adam Byczkowski (Better Person), and Jane Penny (TOPS) on backing vocals.
Un bon disque pop est comme un grand ami : un confident intime, une épaule pour pleurer et un complice lorsque vous êtes prêt à vous pomponner et à danser sous la boule disco (ou devant votre miroir.) C'est ce que vous trouverez sur MARCI, le premier album solo de Marta Cikojevic du groupe de soft-rock montréalais TOPS, qui se démarque avec une collection de chansons synth pop pleines d'assurance et de sincérité. « Je voulais rendre les gens heureux. Je voulais que les gens aient l'impression qu'ils pouvaient danser même lorsqu'il y avait de la négativité », explique Cikojevic.
La confiance de MARCI contredit le fait que Cikojevic n'a jamais officiellement écrit de chansons auparavant, bien qu'elle compose des chansons depuis son enfance dans les régions rurales de l'Ontario, lorsqu'elle cherchait des endroits secrets pour pratiquer le chant et s'enregistrer sur un enregistreur portable, et joue les claviers dans TOPS depuis 2017. Pour faire MARCI, Cikojevic a collaboré avec son coéquipier de TOPS David Carriere, le décrivant comme « un grand écrivain pop » qui partageait sa vision.
Carrierre et Cikojevic ont approché MARCI avec l'idée qu'ils voulaient créer des grands succès, accrocheurs et dansants, mais émotionnellement honnêtes et terre-à-terre. Le disque a été assemblé au cours d'une année dans un appartement montréalais rappelant un prêteur sur gages de 1993, rempli de synthétiseurs et d'instruments obscurs datant des années 1980. Les chansons ont été écrites sur Rhodes et basse, puis étoffées avec des harmonies, des guitares, des samplers et des synthétiseurs FM et analogiques. Le résultat est une musique qui touche aux caractéristiques musicales des grandes chansons du passé, mais qui sonne toujours très futuriste. Avec Carrierre et Cikojevic, MARCI figure Mitch Davis, Rene Wilson et Austin Tufts (Braids) à la batterie, et Chloé Soldevila (Anemone), Adam Byczkowski (Better Person) et Jane Penny (TOPS) aux chœurs.
| | | |
| --- | --- | --- |
| 1. | All of Your Love | 2:28 |
| 2. | Immaterial Girl | 3:35 |
| 3. | Entertainment | 2:48 |
| 4. | Terminal | 3:22 |
| 5. | Pass Time | 3:03 |
| 6. | Play By Play | 2:42 |
| 7. | Deeper Shade of Blue | 3:17 |
| 8. | Call The Wild | 3:17 |
| 9. | When Love Had Just Begun | 2:35 |
| 10. | Electricity | 2:35 |
| 11. | BB I Would Die | 3:08 |