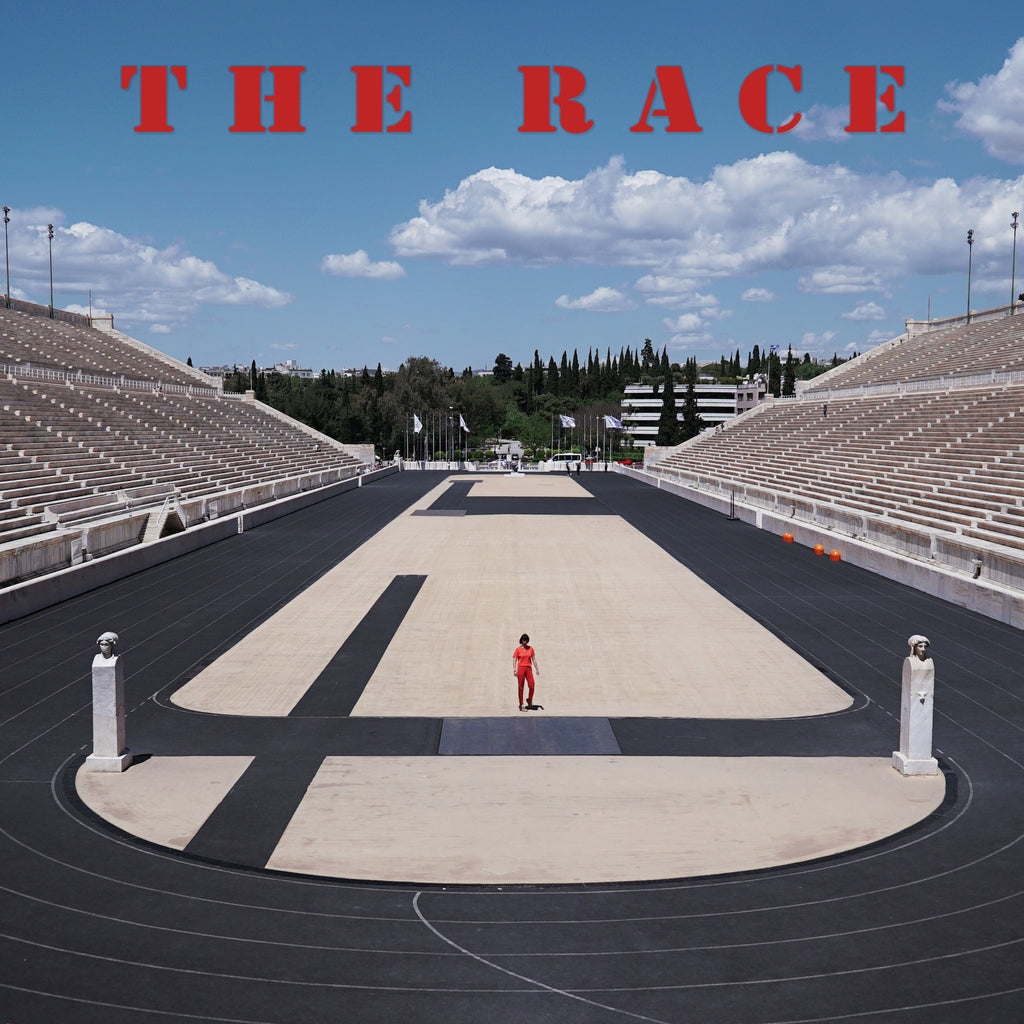 Between two hills, beyond a river and beside a temple of luck, ancient Athenians ran their races. Once outside the city walls, today this stadium lies bang in the heart of a vast urban sprawl.
A place for all Athens ("Panathenaic") and beautifully marbled ("Kallimarmaro"), the stadium was rebuilt by a Zappa (Evangelos not Frank) to host the first modern Olympic Games in 1896. Here too lies the finish line of the classic marathon, which sets out from a town some 26 miles outside Athens that gave the race (also run around the world) its name.
The river, now hidden under a road, still runs its course. And the city still runs its race. In the heat of the day, tourists come take victory laps around the stadium's bottom track while locals run along the horseshoe rim at its top. In the cool of the night teenagers break in and bring the love, sitting on the steps to drink and kiss. Hearts beat faster here, breathless from sport or love or wonder.
The Race traces the pulse of this place. The blood-pumping thrill of the chase to get higher, faster, harder. And the desire to get far from it all: to escape, from yourself or with someone else.
The track inspired a loving video look at all kinds of athletes as they train across the city of Athens. It's got it all: a veritable alphabet of sports (archery, boxing, crossfit, dance, equestrian, fencing and golf), pole-dancers and ping-pong players, horse riders and rock climbers, contenders under water (rugby) and on wheels (skateboarding), sporting women and men in all their sweat-steaming, heart-racing beauty.
The Race is Σtella's second release on Arbutus Records. Run with it.
Entre deux collines, au-delà d'une rivière et à côté d'un temple de la chance, d'anciens Athéniens couraient leurs courses. Une fois hors des murs de la ville, ce stade se trouve aujourd'hui au cœur d'un vaste étalement urbain.
Un lieu pour tout Athènes («Panathénaïque») et magnifiquement marbré («Kallimarmaro»), le stade a été reconstruit par un Zappa (Evangelos et non Frank) pour accueillir les premiers Jeux Olympiques modernes de 1896. Là aussi se trouve la ligne d'arrivée du classique marathon, qui part d'une ville située à 26 km d'Athènes et qui a donné son nom à la course (qui fait également le tour du monde).
La rivière, maintenant cachée sous une route, poursuit toujours son cours. Et la ville court toujours sa course. Dans la chaleur du jour, les touristes viennent faire des tours de victoire autour du fond du stade, tandis que les locaux courent le long du bord du fer à cheval. Dans la fraîcheur de la nuit, des adolescents s'introduisent munient d'amour, et ils s'asseyent sur les marches pour boire et s'embrasser. Les cœurs battent plus vite ici, à bout de souffle pour cause de sport, d'amour ou de merveilles.
The Race retrace le pouls de cet endroit. Le frisson de sang-froid de la chasse pour aller plus haut, plus vite, plus fort. Et le désir de s'éloigner de tout: s'échapper, de soi-même ou avec quelqu'un d'autre.
La piste (if you meant race track or La chanson if you meant song) a inspiré une vidéo captivante de toutes sortes d'athlètes lors de leurs entraînements à Athènes. Tout y est: un véritable alphabet sportif (tir à l'arc, boxe, crossfit, danse, équitation, escrime et golf), danseurs de pôle et joueurs de ping-pong, cavaliers et alpinistes, prétendants sous l'eau (rugby) et sur roues (skateboarding), des femmes et des hommes sportifs dans toute leur beauté empreinte de sueur et de battements de cœur.
The Race est la deuxième parution de Σtella sur Arbutus Records. Courons ensemble