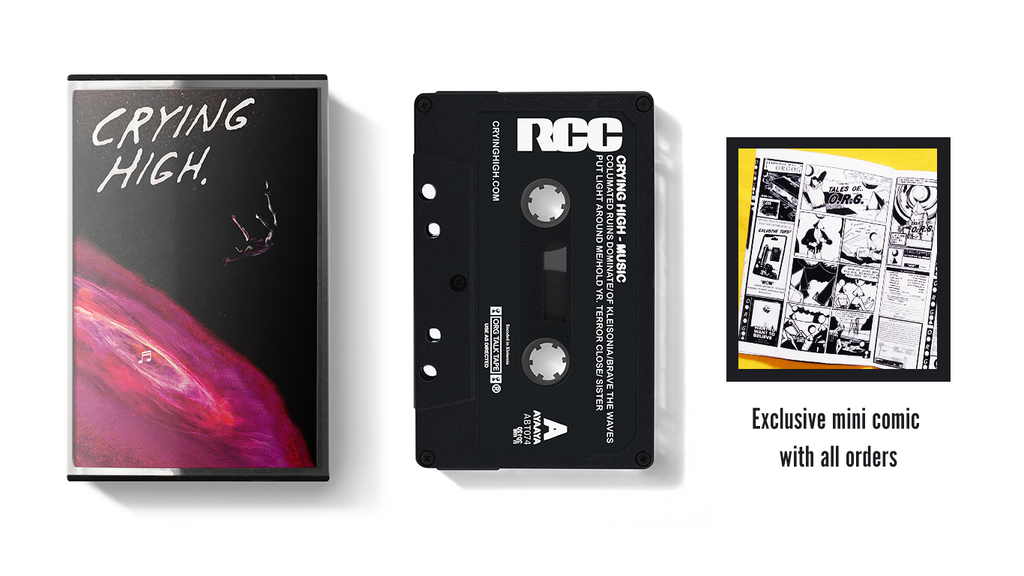 Crying High is the new project from Toronto born multimedia artist and psychedelic crooner, D Kleiser. The album is called ♬. You can call it "Music" if thats easier. It was produced in Montreal by D Kleiser, and is a wonderful introduction to the proud world of Kleisonia, and all the artifacts of its inward adventures.
Crying High is vapornoir from Montreal: disco and ebm slowed down beyond dance utility and used as the framework to support late night phone confessional vocals that sing heartbreak, joy, catharsis, pleas and attitudes of gratitudes. On-stage, Kleiser evokes Andy Kauffman's Hawaiian singer, or coo's like a delay-and-sweat soaked Slim Whitman; A cheap Angel Olsen halloween costume: A yawn is a silent scream. The voice as Analogue VR: Part banshee on Earth and part Bowie in the bardo. Crying Highs music, lyrics and dancing combine to carry its audience thru a dynamic spectrum of emotion and character: screaming every high, milking every low. Serious face. Happy face! It takes only minutes for an audience to realize that Kleiser is watching each performance along with them.
Kleiser utilizes the raw power of garage band to produce midi-karaoke versions of AM radio hits from deep within the youtube-algorithmic pata-verse. Largely recorded in bed or at the kitchen table, recruiting whichever friends were proximate to sing into that little-built-in-mic-on-everyones-earbuds. Elements of the album (see: trumpet sections, songs about cats/dead friends) belay Kleiser's desperate affinity for an era when Airplane Over The Sea was the thing, but this music is truly a direct product of its time. Here, Crying High broadcasts little alternative pop pata-communications into the void in an attempt to forgive it. ♬ could not have been made in any other temporal elsewhere. Sifting thru the mp3 junk yard of 20th century pop culture to cobble together something pretty.
A personal exercise in Memehommage-as-Shadow Work, ♬ comes complete with a solid and timeless moral, simply put: learn to love yourself or you'll die.
***
All cassettes are bundled with a mini comic!
Every 10th pre order comes with a free bonus pipe (pipes are hand assembled by the artist and their mother)!
Pipes are also retailed independently at $20 a pop and include a MP3 download of the album!
Crying High est le nouveau projet de D Kleiser, artiste multimédia et crooner psychédélique né à Toronto. L'album s'appelle ♬. Vous pouvez dire "Musique" si c'est plus facile. Il a été produit à Montréal par D Kleiser et c'est une introduction merveilleuse au fier monde de Kleisonia et à tous les artefacts venant de ses aventures intérieures.
Crying High est de la vapornoir de Montréal : disco et ebm ralenties bien au-delà du point de la danse et servant de cadre soutenant les confessions de fin de soirée faites au téléphone qui chantent chagrins d'amour, joie, catharsis, plaintes et attitudes de gratitude. Sur scène, Kleiser nous évoque le chanteur hawaïen d'Andy Kauffman, des roucoulements tel un Slim Whitman imbibé de delay et de sueur ; un déguisement d'Halloween d'Angel Olsen au rabais : Un bâillement est un cri silencieux. La voix comme réalité virtuelle analogue : à la fois banshee sur la planète et Bowie dans le bardo. La musique, les paroles et la danse émanant de Crying Highs se combinent pour transporter son public à travers un spectre dynamique d'émotions et de caractère : criant chaque note haute, trayant les basses. Visage sérieux. Visage heureux ! Il suffit de quelques minutes pour que l'audience se rende compte que Kleiser est tout autant un spectateur lors des performances.
| | |
| --- | --- |
| 1. Columnated Ruins Domino | 2:53 |
| 2. Of Kleisonia | 3:30 |
| 3. Brave the Waves | 4:51 |
| 4. Put Light Around Me | 2:11 |
| 5. Hold Yr Terror Close | 3:40 |
| 6. Sister | 5:21 |
| 7. Ahhhh! | 0:31 |
| 8. Rites of Org | 3:04 |
| 9. Cocaine | 4:19 |
| 10. You Should Have Yr Dream | 2:04 |
| 11. VIVACITY | 6:24 |
| 12. We Are Shapes + Colours | 6:49 |