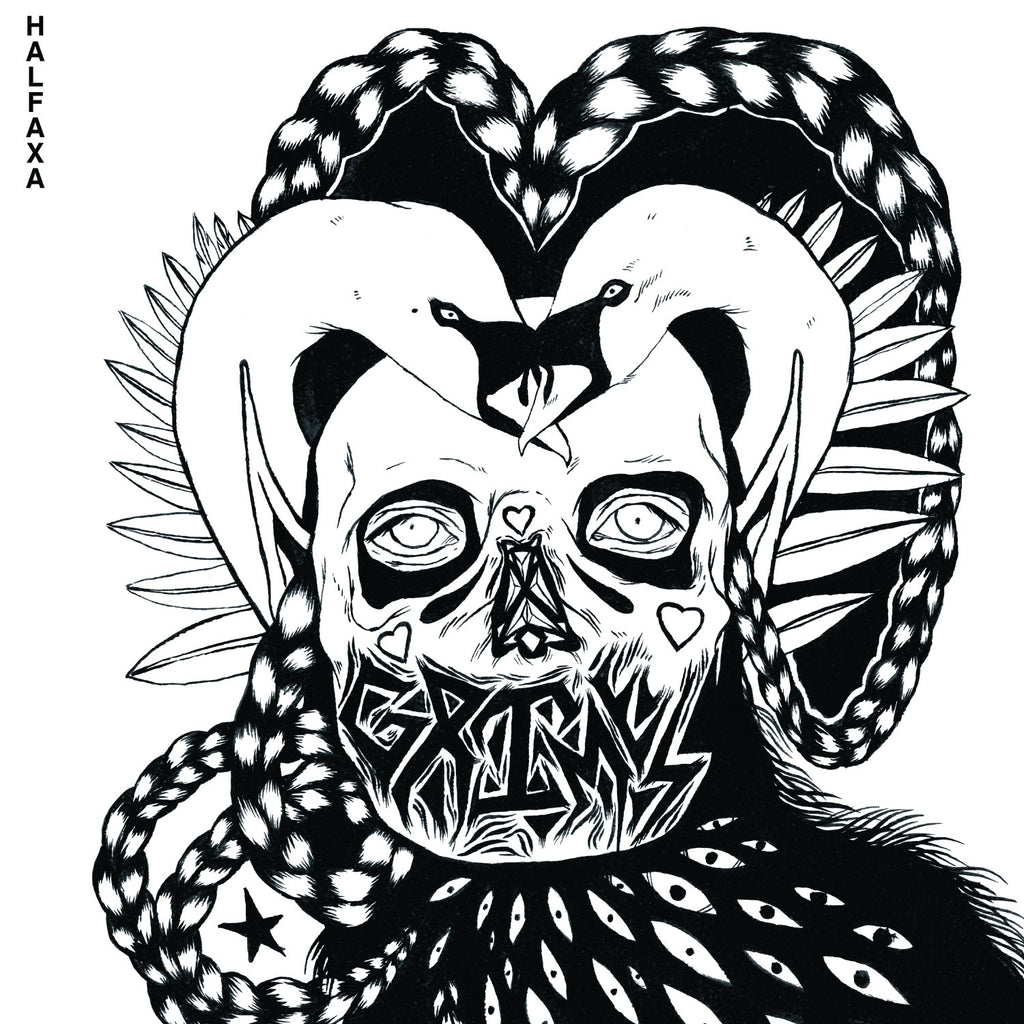 Claire Boucher speaks a different language. And Halfaxa, her second album this year, feels like the dictionary from which we might discern just where this being comes from. Consider the title at face value; Halfaxa is just slightly removed from a place that we can understand and grab onto. This is the perfect way to describe the music of Grimes, a B.C. transplant making waves in the Montreal underground music scene.
In Boucher's last album, the Dune-referencing Geidi Primes (Arbutus), she sings in foreign languages, both real and concocted. But even when presented with comprehendible lyrics, the listener is hard-pressed to glean any concrete understanding. Halfaxa is simultaneously more human than Geidi Primes, and yet falls deeper into a hole of mystical obscurity. These songs feel as though they're being sung through the tunnel of a labyrinth. Grimes can be the soundtrack to a witch hunt and a tape dub from a night at Danceteria simultaneously. She harnesses dark and light.
"Wereglid" opens with synths that sound like plates falling and disintegrating. This gives way to vocal pitching, ominous pads, delayed drum programming and, despite any sonic abstraction, could still be said to fit neatly within a traditional pop song structure. The lyrics, as throughout this album, are designed to be an additional instrument, and not necessarily a device that gives obvious meaning to the proceedings.
"Devon" is jarring for its clarity, both in purpose and presentation. Anchored by a spry tropicalia drum loop and shimmering piano chords, the song bursts with light. A gothic blast that could be likened to of a b-side from a Kate Bush/Siouxie and the Banshees collaboration, this is perhaps the only song on the album containing any reference to worldly experience.
There is a strong focus on primeval and simplistic percussion to Boucher's music, though I am apprehensive to compare it directly to club music. Even with all the fog and barriers she presents us with, at the core of her music is the human heart. There is a heartbeat in every note. Her breath is often used as a percussive element. Somehow, Grimes says more about life through her methodology than through what she literally chooses to say. Like all great world music, her sound transcends language."
| | | |
| --- | --- | --- |
| 1. | Outer | 1:13 |
| 2. | Intor / Flowers | 2:51 |
| 3. | Weregild | 5:15 |
| 4. | sagrad | 5:14 |
| 5. | Dragvandil | 1:40 |
| 6. | Devon | 4:32 |
| 7. | Dream Fortress | 5:02 |
| 8. | world princess | 4:42 |
| 9. | River | 1:58 |
| 10. | Swan Song | 3:07 |
| 11. | Omega | 2:15 |
| 12. | My Sister Says The Saddest Things | 4:13 |
| 13. | Hallways | 5:45 |
| 14. | Favriel | 5:29 |