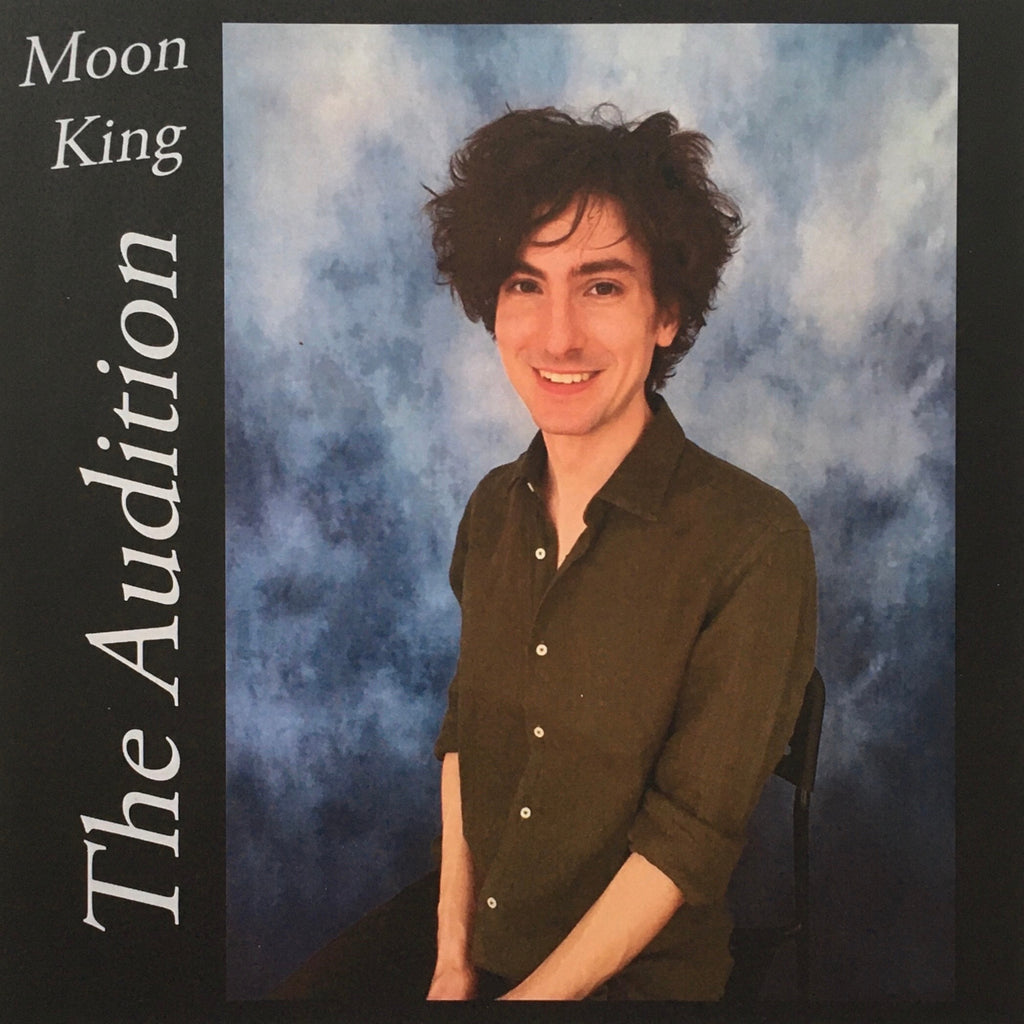 "I've become fascinated with actors, auditioning, 'trying to get the part'. Things that might seem silly in a high school drama class, but stay with you. Learning how to perform - whether that's onstage, online, or for a job.", says Benjamin on the subject matter for the new songs.
On 'The Audition', Moon King is in a class of his own, offering a look 'inside the actor's studio' with a new set of fun, fanciful and unabashedly lo-fi synthpop, and heightening his skills as a producer in the vein of Patrick Cowley or Patrick Adams. First track 'Survival of the Strongest' examines the competitive nature of performance, "how to deal with criticism, keep your ego in check, and stay inspired. There's no correct mix of talent, luck and brains - the only way to succeed is to be the best at showing everyone who you are."
With 15 years of experience playing music, producing and touring in bands, Daniel is learning new things every step of the way - a real class act.
'The Audition' is Moon King's third release with Arbutus Records, following 2017's breakout single 'In & Out'. In the early 2010's, Daniel was a part of the flourishing electronic music scene in Montreal, performing as a touring musician with Grimes, Sean Nicholas Savage and Doldrums, all while beginning to write & produce his own music. A 2016 move to Detroit and immersion in that city's vibrant dance music and DJ culture soon began to influence his own recordings, embracing a signature blend of underground disco and effervescent synthpop.
«Je suis devenu fasciné par les acteurs, par les auditions, et par les efforts nécessaires pour obtenir le rôle. Des instants qui peuvent nous marquer et semblent idiots dans un cours d'art dramatique au secondaire, mais qui nous marquent profondément. Apprendre à performer - que ce soit sur scène, en ligne ou pour un emploi.», déclare Benjamin sur le sujet des nouvelles chansons.
Sur 'The Audition', Moon King est dans une classe à part, offrant un regard 'à l'intérieur du studio de l'acteur' avec un nouvel ensemble de synthpop amusante, fantaisiste et sans hésitations en renforçant ses compétences en tant que producteur dans la veine de Patrick Cowley ou Patrick Adams. Le premier morceau 'Survival of the Strongest' examine la nature compétitive de la performance, «comment gérer les critiques, garder les pieds sur terre et rester inspiré. Il n'y a pas de mélange magique de talent, de chance et de cerveaux - la seule façon de réussir est d'être le.a meilleur.e à montrer qui vous êtes.»
| | | |
| --- | --- | --- |
| 1. | Aide SVP | 4:35 |
| 2. | Gimme A Break | 2:54 |
| 3. | I Hate To Miss A Party | 3:08 |
| 4. | Honey Honey Honey | 3:08 |
| 5. | Survival Of The Strongest | 4:10 |
| 6. | Until I See You Again | 3:32 |
| 7. | Drama Part Two | 2:56 |
| 8. | That's Not My Name | 2:43 |
| 9. | The Audition | 4:41 |