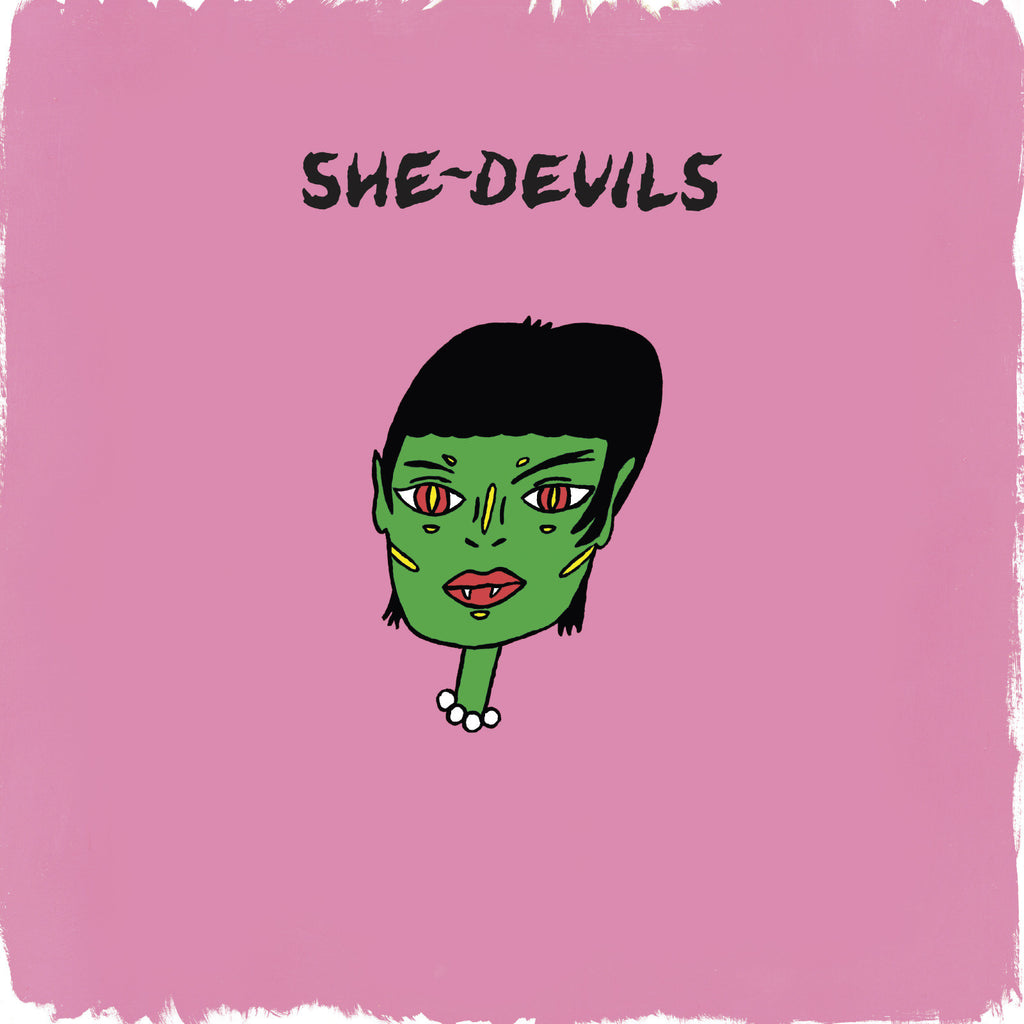 "I've always believed in the idea that if you visualize or summon something, it will come true," explains She-Devils vocalist Audrey Ann Boucher.
Alongside her friend and bandmate Kyle Jukka, she has summoned 'She-Devils': a channel through which Audrey Ann and Kyle explore the sensory world, actualize aesthetic fantasies and alchemize pieces of history into entirely new sensations.
Through primitive electronic gear, hypnotist vocals, and an "amusement park of sounds", the duo's album constructs a fun-house world of beautiful chaos. The music is built from original sonics inspired by everything from Iggy Pop to Madonna to T-Rex to Can, as well as the romantic longing of '60s yé-yé.
The pair met four years ago while living at a music rehearsal space in the Mile-Ex neighbourhood of Montreal. "We were like wild animals, kind of fearful and just surviving," recalls Kyle, "But we had certain obsessions and needed to build something out of them, to transcend our lives and express our visions and inspirations." In this state, Kyle and Audrey formed a friendship based on a love of the dreamy and the beautiful. "She-Devils is a ship we built to sail us away to a better place," says Audrey.
The band played gigs for about eight months though they did not record right away. Making music together meant following their own rules and taking things one step at a time. "I never sang before starting She-Devils," says Audrey. "I have to learn just by doing it, through intuition. I learned vocal warm-ups I found online so I could train the reflexes of my body, since it's kind of like training my body's ability to respond to intuition." Following instinct is a crucial part of She-Devils' identity.
Striving to make music that feels "as visual as possible," the band hopes to strap listeners into a rollercoaster ride "with Audrey's voice as the centrepiece to cling to." The duo are inspired by the cinema and art of Gregg Araki, Yayoi Kusama, Andy Warhol, John Waters and Quentin Tarantino. They direct their own videos. Audrey creates the artwork that accompanies the music. Her self-taught style evolved by watching hours of Disney movies, The Simpsons and Powerpuff Girls. "Those influences are very present in my drawings and paintings," she says.
Audrey is also musically self-taught. In fact, she had never even played music before forming She-Devils. "I've always seen music from the perspective of an artist or music lover rather than that of a musician," she explains. "When I sing over a loop, I don't feel like I'm in control of what I do, or that I am cerebrally engaged with making music, it's more like my subconscious is completely taking over my mind and it just comes out of my dreams."
You only have to listen to the album to understand what Audrey's saying. Dig a little into her lyrics and this entrancing quality becomes even more palpable. "There's a place where we can go / Right here if you let me take you in / I know that this is for real / I saw the look in your eyes," she croons on 'Never Let Me Go,' over Kyle's woozy, layered guitars.
Elsewhere on the album, standout tracks include 'How Do You Feel' - a swirling fantasia about adolescent love - 'You Don't Know', with its trebly jangle-pop, and 'The World Laughs,' which hits a high of creepy rock 'n roll psychedelia.
Kyle and Audrey think they fit together perfectly. "I try to use my ears to travel, and like a traveller I want to feel sonic emotions and hear things I haven't before, that's the excitement of it," says Kyle, "The challenge is to make that into a cohesive work, but Audrey makes it so easy because she has this vibe as a singer that immediately connected with my imagination." The connection of these two friends -- their tensions, harmonies and oppositions -- is probably the most crucial part of all. 
"J'ai toujours cru en l'idée que si vous visualisez ou convoquez quelque chose, cela se réalisera", explique la chanteuse de She-Devils, Audrey Ann Boucher.
Avec son ami et son camarade de groupe, Kyle Jukka, elle a convoqué "She-Devils" : une chaîne par laquelle Audrey Ann et Kyle explorent le monde sensoriel, actualisent les fantasmes esthétiques et alchimient les morceaux de l'histoire dans des sensations entièrement nouvelles.
Grâce à un équipement électronique primitif, à des voix hypnotisées et à un «parc d'attractions de sons», l'album du duo construit un monde de fête du beau chaos. La musique est construite à partir de soniques originaux inspirés de tout, de Iggy Pop à Madonna à T-Rex à Can, ainsi que le désir romantique des années 60 yé-yé.
La paire s'est réunie il y a quatre ans alors qu'elle vivait dans un espace de répétition de musique dans le quartier Mile-Ex de Montréal. "Nous étions comme des animaux sauvages, un peu peur et juste survivre", se souvient Kyle, "Mais nous avons eu certaines obsessions et avons dû construire quelque chose, transcender nos vies et exprimer nos visions et nos inspirations". Dans cet état, Kyle Et Audrey a formé une amitié fondée sur l'amour du rêveur et de la belle. "She-Devils est un navire que nous avons construit pour nous conduire à un meilleur endroit", explique Audrey.
Le groupe a joué des concerts pendant environ huit mois, mais ils n'ont pas enregistré tout de suite. Faire de la musique ensemble signifie suivre leurs propres règles et prendre les choses un pas à la fois. "Je n'ai jamais chanté avant de commencer She-Devils", dit Audrey. "Je dois apprendre simplement en le faisant, par intuition. J'ai appris des échauffements vocaux que j'ai trouvés en ligne afin que je puisse former les réflexes de mon corps, car c'est comme une formation à la capacité de mon corps à répondre à l'intuition. "L'instinct suivant est une partie cruciale de l'identité de She-Devils.
S'efforçant de faire de la musique qui se sent "aussi visuelle que possible", la bande espère transporter les auditeurs dans un tour de montagnes russes "avec la voix d'Audrey comme pièce centrale à s'accrocher." Le duo s'inspire du cinéma et de l'art de Gregg Araki, Yayoi Kusama , Andy Warhol, John Waters et Quentin Tarantino. Ils dirigent leurs propres vidéos. Audrey crée l'œuvre d'art qui accompagne la musique. Son style autodidacte a évolué en regardant des heures de films de Disney, The Simpsons et Powerpuff Girls. "Ces influences sont très présentes dans mes dessins et peintures", dit-elle.
Audrey est également musicalement autodidacte. En fait, elle n'avait jamais joué de musique avant de former She-Devils. "J'ai toujours vu de la musique du point de vue d'un artiste ou d'un amateur de musique plutôt que d'un musicien", explique-t-elle. "Quand je chante sur une boucle, je n'ai pas l'impression que je maîtrise ce que je fais, ou que je suis engagé à faire de la musique, c'est plus comme si mon subconscient me reprend complètement et ça vient de sortir De mes rêves. "
Il suffit d'écouter l'album pour comprendre ce que Audrey dit. Creusez un peu dans ses paroles et cette qualité fascinante devient encore plus palpable. "Il y a un endroit où nous pouvons aller / Juste ici si vous me laissez vous emmener / Je sais que c'est vraiment réel / J'ai vu le regard dans vos yeux", elle croque sur Never Let Me Go, sur Kyle's woozy, Guitares en couches.
Ailleurs sur l'album, les morceaux de vedettes comprennent «How Do You Feel» - une fantasie tourbillonnante sur l'amour de l'adolescent - «You Do not Know», avec son jingle-pop et ses «The World Laughs», qui frappe un peu de fougueux Rock and roll psychedelia.
Kyle et Audrey pensent qu'ils s'harment parfaitement. "J'essaie d'utiliser mes oreilles pour voyager et, comme un voyageur, je veux ressentir des émotions sonores et entendre des choses que je n'ai pas auparavant, c'est l'excitation de cela", explique Kyle, "Le défi est de faire en un travail cohérent , Mais Audrey le rend si facile parce qu'elle a cette vibe en tant que chanteuse qui s'est immédiatement associée à mon imagination. "La connexion de ces deux amis - leurs tensions, leurs harmonies et leurs oppositions - est probablement la partie la plus cruciale de tous.
| | | |
| --- | --- | --- |
| 1. | Come | 3:08 |
| 2. | Hey Boy | 3:40 |
| 3. | Make You Pay | 4:23 |
| 4. | Darling | 4:35 |
| 5. | How Do You Feel | 4:39 |
| 6. | Blooming | 3:29 |
| 7. | You Don't Know | 2:51 |
| 8. | The World Laughs | 3:52 |
| 9. | Never Let Me Go | 3:48 |
| 10. | Buffalo | 3:09 |