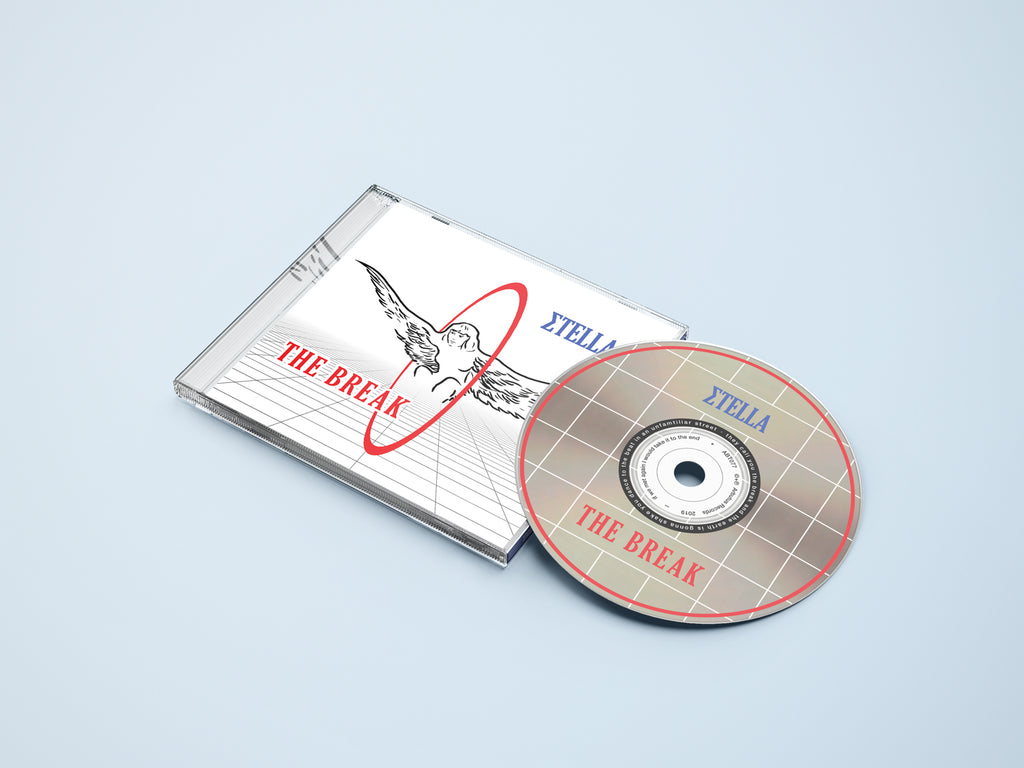 Σtella was born beside the sea and raised by a Canadian nanny who waterskied topless.
Following the releases of her two recent singles on Arbutus Records, ("Samba" and "The Race"), Σtella is ready to share her new album, "The Break". Presenting the first out of her three albums, where Σtella herself produced, and recorded -most of it- at her home studio, "The Break" brings together all the playfulness and spontaneity that characterizes her music: non-standard pop deviations whose shimmering feel-good surfaces are anchored by a powerful undertow of melancholy.
Based in Greece, Σtella began writing music while still a student at the Athens School of Fine Art, and first released songs into the wild (of the Internet) in 2012. Soon in demand as a guest writer and vocalist for an impressive cross section of the Greek underground scene, she also flexed her melodic muscle on more personal collaborative projects, such as Fever Kids and a series of acclaimed tracks with Nteibint.
But it was striking out on her own, writing and releasing two solo albums – her self-titled 2015 debut "Σtella" and 2017's "Works For You" – that brought her critical momentum, buzz and airplay, making her one of Greece's most popular indie stars.
Happiest on stage with her band, Σtella has built a strong reputation for stunning live performances. She has opened for such international artists as Chinawoman, Busy P, Breakbot and Metronomy, to date appearing at the SXSW Music Festival, ESNS – Eurosonic Noorderslag, Iceland Airwaves, Reeperbahn, Le Printemps de Bourges, and seven Europavox Network Festivals (in Belgium, France, Italy and Lithuania), as well as at venues in the UK, Germany, Bulgaria, and Cyprus.
Now signed with Arbutus Records, she's ready to break out – and ready to break you in.
People have been talking about her: Enticing [said Clash Magazine]. Σtella's honey-rich vocals overlie a crisp, no-frills backing that has echoes of classic '60s pop [said The Line of Best Fit]. The fact that her range is on the lower end of the spectrum gives Σtella this regal quality to her music, similar to what Annie Lennox did for the Eurythmics [said Earmilk]. Her lyrics are moody and compelling on their own, but I was buying whatever she was selling as soon as I heard her blend of video game-flavored electro-pop paired with deep lady vocals. Swoon [said Bitch Media]. With dirt under her fingernails, a whole decade of grit in her voice, and an endless supply of bass licks, the Athens-based singer-songwriter will get any room moving [said MTV Iggy]. Bold, streamlined pop [said Paste Magazine]. A soft wave of wistful nostalgia… majestic [said Gorilla vs. Bear].
Σtella est née au bord de la mer et a été élevée par une nourrice canadienne qui a pratiqué le ski nautique topless.
Après la sortie de ses deux singles récents sur Arbutus Records («Samba» et «The Race»), Σtella est prête à partager son nouvel album, «The Break». Présentant le premier de ses trois albums, où tella a elle-même produit et enregistré, pour la majorité, dans son studio personnel, «The Break» réunit toute la fantaisie et la spontanéité qui caractérisent sa musique: des déviations pop non standard dont les sensations chatoyantes sont ancrées par un puissant ressac de mélancolie.
Basé en Grèce, Σtella a commencé à écrire de la musique alors qu'elle était encore étudiante à l'école des beaux-arts d'Athènes. Elle a publié ses premières chansons sur Internet en 2012. Bientôt en demande en tant que compositrice de chanteuse invitée pour la scène underground grecque, elle a également mis son énergie mélodique au service de projets collaboratifs plus personnels, tels que Fever Kids et une série de titres acclamés avec Nteibint.
Mais c'est par elle-même qu'elle a réussi à écrire et à publier deux albums solo - son premier album éponyme, Σtella de 2015, et «Works For You» de 2017, qui lui ont valu son élan critique, son buzz et sa diffusion, en faisant l'une des plus populaires en Grèce de la scène indie.
Plus heureuse sur scène avec son groupe, Σtella s'est bâtie une solide réputation pour ses performances live époustouflantes. Elle a été en premier plan pour des artistes internationaux tels que Chinawoman, Busy P, Breakbot et Metronomy. Elle a déjà participé aux festivals de musique SXSW, ESNS - Eurosonic Noorderslag, Iceland Airwaves, Reeperbahn, Le Printemps de Bourges et à sept festivals du réseau Europavox (en Belgique). France, Italie et Lituanie), ainsi qu'au Royaume-Uni, en Allemagne, en Bulgarie et à Chypre.
Maintenant signée chez Arbutus Records, elle est prête à s'éclipser - et à vous faire percer.
Les gens ont parlé d'elle: Seduisant [dit Clash Magazine]. La voix mielleuse de ellatella se superpose à un fond vif et sans fioritures qui rappelle la pop classique des années 60 [dit The Line of Best Fit]. Le fait que sa gamme se situe dans la partie inférieure du spectre confère à Σtella cette qualité majestueuse pour sa musique, similaire à ce qu'Annie Lennox a fait pour les Eurythmics [a déclaré Earmilk]. Ses paroles sont d'humeurs changeante et convaincantes, mais j'achetais ce qu'elle vendait dès que je l'ai entendue mélanger de la musique électro-pop à saveur de jeu vidéo associée à une voix de dame profonde. 'Swoon' [dit Bitch Media]. Avec la saleté sous les ongles, toute une décennie de cran dans la voix et une pléiade de coups de langue, la chanteuse-compositrice-interprète basée à Athènes fera bouger n'importe quelle pièce [dit MTV Iggy]. Pop audacieux et simplifie [dit Paste Magazine]. Une douce vague de nostalgie mélancolique… majestueuse [dit Gorilla vs Bear].
| | | |
| --- | --- | --- |
| 1. | Bellaria | 2:47 |
| 2. | The Race | 3:22 |
| 3. | Simon Says | 3:14 |
| 4. | Samba | 2:56 |
| 5. | Forest | 3:39 |
| 6. | Monster | 3:10 |
| 7. | The Break | 3:03 |
| 8. | I'm Alone | 2:32 |
| 9. | Numero | 3:32 |
| 10. | The River | 2:55 |
| 11. | Cherry | 2:39 |
| 12. | Sleeping Separate | 3:27 |
| 13. | The World Is Big | 3:04 |