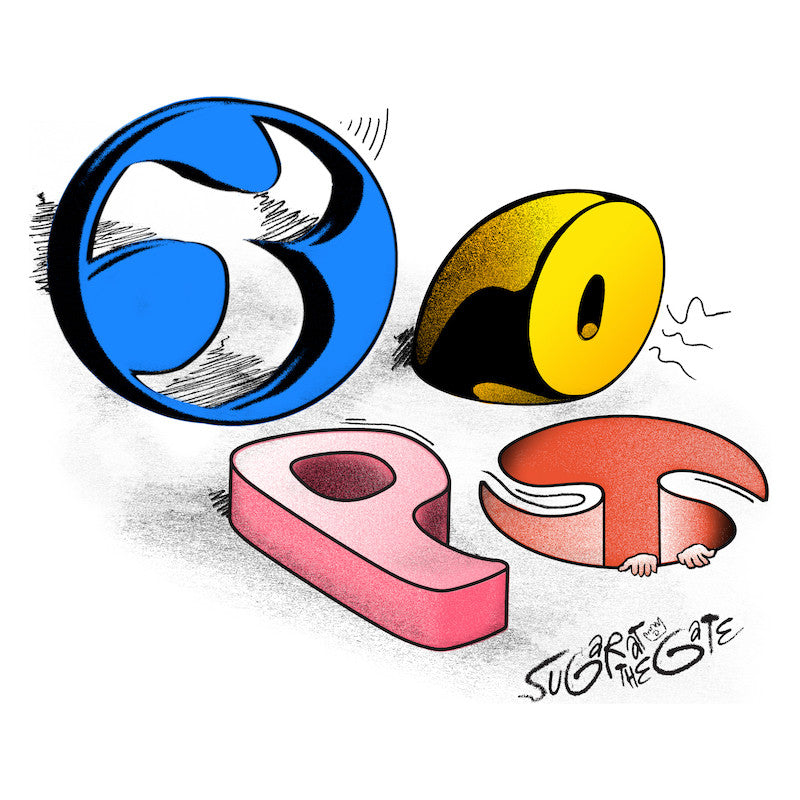 For Sugar At The Gate, their third and most ambitious album to date, Montreal's TOPS peaced out to LA. They lived and recorded at "Glamdale", a mini-mansion and former brothel located in the Jewel City, Glendale, CA. The unassuming record unfolds slowly, taking time to reveal itself. Like nearly everything TOPS does, multiple meanings overlap with the album's title referring to orgasm, but also to carrot chasing, gatekeeping, and the social contract.
Vocalist-songwriter Jane Penny, at this point one of the most distinctive vocalists of her generation, took time during the recording learning how to drive in the Forest Lawn Cemetery parking lot. "Living in LA was living out a teenage fantasy, living with your band and practicing in the garage. It was also the first time we've ever had that much space to make music. I took the experience of living LA as a challenge to make music that I know is real to me, in the sense of it feeling true and containing true feelings, but also recordings of great songs, the real thing."
Jane Penny and David Carriere (guitarist-songwriter) contributed to the album's lyrics as much separately as together. Both their perspectives are heartfelt, with Penny's sometimes cryptic lyrics betraying something of her unconscious.
Layers of sarcasm and sincerity seem to enfold the group like flower petals. Irrepressible jokers in conversation, their album's vinyl download codes come folded up inside drug baggies. TOPS' flawless musicianship and profound grasp of pop fundamentals are the surest sign that at the core, it's all as real as it sounds. 
All of TOPS recordings have been produced by the band, who have self recorded the majority of their work to date. Riley Fleck's distinct and controlled drumming style is key to the arrangements on Sugar at the Gate. A sensitivity in his playing and strong sense of discretion is a distinguishing feature of TOPS' sound. 
Pour Sugar At The Gate, leur troisième et le plus ambitieux album à ce jour, TOPS de Montréal a fait l'éloge à Los Angeles. Ils ont vécu et enregistré à "Glamdale", un mini-manoir et ancien bordel situé dans le Jewel City, Glendale, Californie. L'enregistrement modeste se déroule lentement, prenant le temps de se révéler. Comme presque tout ce que TOPS fait, plusieurs significations se chevauchent avec le titre de l'album se référant à l'orgasme, mais aussi à la poursuite des carottes, à la garde des portes et au contrat social.
La chanteuse-compositrice Jane Penny, à ce stade, l'un des chanteurs les plus distinctifs de sa génération, a pris du temps pendant l'enregistrement en apprenant à conduire dans le parking du cimetière Forest Lawn. "Vivre à Los Angeles vivait une fantaisie adolescente, vivant avec votre groupe et pratiquant dans le garage. C'était aussi la première fois que nous avons eu beaucoup d'espace pour faire de la musique. J'ai pris l'expérience de vivre LA comme un défi pour faire de la musique que je sais est réel pour moi, dans le sens où il se sent réellement et contenant de vrais sentiments, mais aussi des enregistrements de grandes chansons, la vraie chose ".
Jane Penny et David Carriere (guitariste-compositrice) ont contribué aux paroles de l'album autant séparément que par ensemble. Ses deux points de vue sont sincères, avec les paroles parfois énigmatiques de Penny trahissant quelque chose de son inconscient.
Des couches de sarcasme et de sincérité semblent envelopper le groupe comme des pétales de fleurs. Les plaisanteries irrépressibles dans la conversation, les codes de téléchargement de vin de leur album sont repliés dans des sacs de médicaments. La musclé impeccable de TOPS et la compréhension profonde des fondamentaux de la pop sont le signe le plus sûr que, au cœur, il est tout aussi réel que cela semble.
Tous les enregistrements TOPS ont été produits par le groupe, qui ont enregistré la majorité de leur travail à ce jour. Le style de percussion distincte et contrôlé de Riley Fleck est la clé des arrangements sur Sugar at the Gate. Une sensibilité dans son jeu et son sens fort de la discrétion est une caractéristique distinctive du son de TOPS. 
| | | |
| --- | --- | --- |
| 1. | Cloudy Skies | 4:22 |
| 2. | Further | 3:34 |
| 3. | Petals | 2:55 |
| 4. | Dayglow Bimbo | 2:15 |
| 5. | Marigold & Gray | 4:09 |
| 6. | Cutlass Cruiser | 3:23 |
| 7. | Hours Between | 4:06 |
| 8. | I Just Wanna Make You Real | 3:57 |
| 9. | Seconds Erase | 4:54 |
| 10. | Topless | 2:41 |