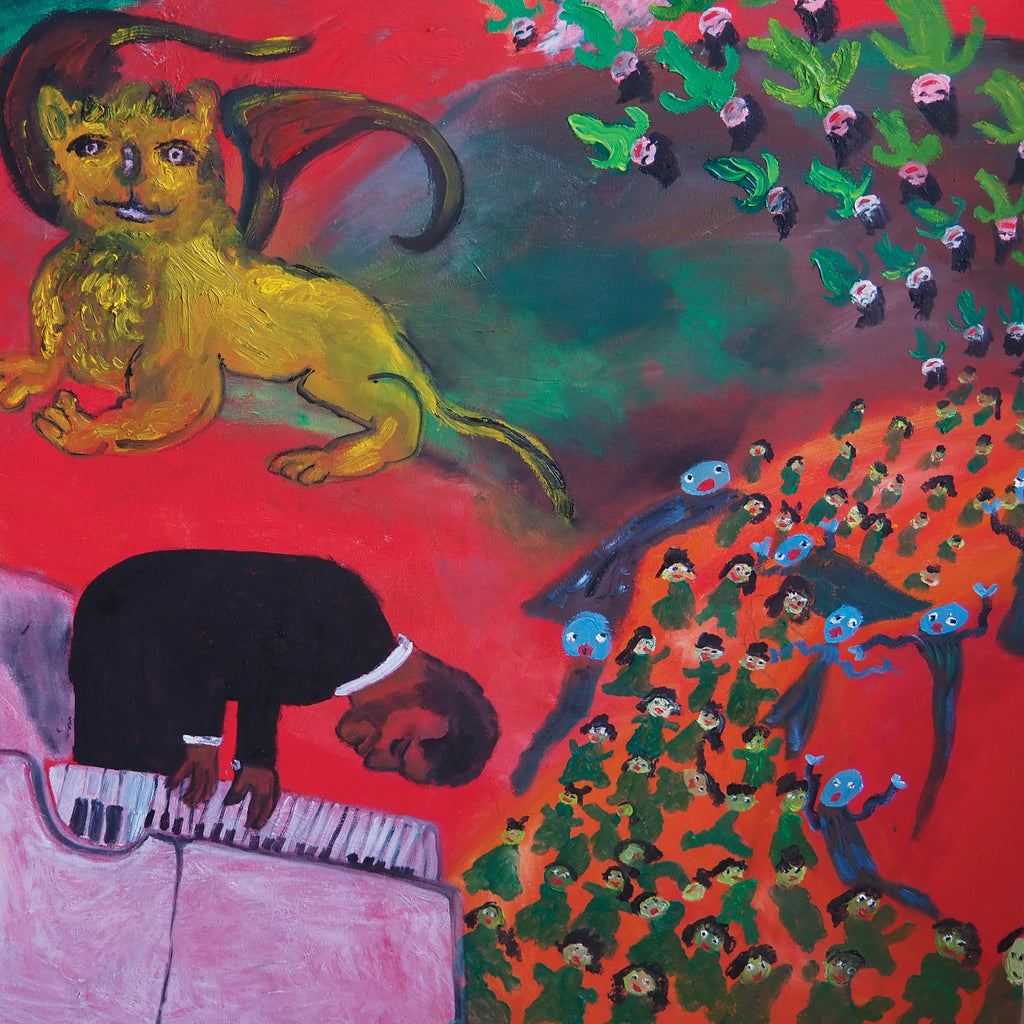 Multi-instrumentalist, songwriter, producer, and Montréal music scene mainstay Mitch Davis steps out on his own with debut LP The Haunt, blending elements of jazz, funk, sunshine pop, rock, and a host of surprising sonic easter eggs into a soulful, personal record that brims with musicality and optimism while pondering universal themes of isolation and loneliness.
A singer-songwriter tour de force, Davis wrote all the songs and played all the instruments on The Haunt, recorded much of it on equipment that he also built himself, all done in his home studio during the 2020 lockdown. Though thematically inspired by the experience of trying to online date in the midst of the pandemic, The Haunt is a breezy listen, very much in tune with the spirit of 70s pop that Davis loves for the way it strikes a balance between complexity and brevity.
Full of warm retro sounds like rhodes, clavinet, and synth, The Haunt also features lots of playfully modern moments that surprise and delight, like the unexpected chiptune breakdown near the end of "Let it Die," a cool contrast to the song's funky marching bass line and lyrics about deciding to give up on a relationship. The baroquely orchestrated "Hope That" achieves a unique interplay between a basic drum machine backbeat and the more acoustic instruments and some lovely synthesized strings. "My City Life" is the album's centerpiece, a ballad about feeling lost in the big city for which Davis drew on his own experiences moving to Montréal from a town of 3,000. Though it begins as an intimate piano ballad, it soon shifts into smooth and catchy soft rock, becoming a lyrical tale of loneliness that musically reaches for the stars—a song emblematic of the kaleidoscopic talents of Mitch Davis that are on full display on The Haunt.
Mitch Davis, multi-instrumentiste, auteur-compositeur, producteur et pilier de la scène musicale montréalaise, sort son premier LP The Haunt, mélangeant des éléments de jazz, de funk, de pop ensoleillée, de rock et une foule de sons sonores surprenants dans un album émouvant. Un disque personnel qui déborde de musicalité et d'optimisme tout en réfléchissant aux thèmes universels de l'isolement et de la solitude.
Auteur-compositeur tour de force, Davis a écrit toutes les chansons et a joué tous les instruments sur The Haunt, en a enregistré une grande partie sur de l'équipement qu'il a également construit lui-même, le tout dans son studio à domicile pendant le confinement de 2020. Bien que thématiquement inspiré par l'expérience de s'essayer sur les sites de rencontres au milieu de la pandémie, The Haunt est une écoute joviale, tout à fait dans l'esprit de la pop des années 70 que Davis aime pour son équilibre entre complexité et brièveté.
Rempli de sons rétro chaleureux comme le rhodes, le clavinet et le synthé, The Haunt propose également de nombreux moments ludiques et modernes qui surprennent et ravissent, comme la panne de chiptune inattendue vers la fin de "Let it Die", un contraste cool entre la marche funky de la chanson et les paroles sur la décision d'abandonner une relation. Le "Hope That" orchestré de manière baroque réalise une interaction unique entre un backbeat de base de boîte à rythmes et des instruments plus acoustiques et de belles cordes synthétisées. "My City Life" est la pièce maîtresse de l'album, une ballade sur le sentiment d'être perdu dans la grande ville pour laquelle Davis s'est inspiré de son déménagement à Montréal depuis une petite ville de 3000 habitants. Bien qu'elle commence comme une ballade intime au piano, elle se transforme rapidement en soft rock doux et accrocheur, devenant un conte lyrique de solitude qui atteint musicalement les étoiles - une chanson emblématique des talents kaléidoscopiques de Mitch Davis qui sont pleinement exposés sur The Haunt.
| | | |
| --- | --- | --- |
| 1. | In The Morning | 4:30 |
| 2. | Bear The Cold | 2:45 |
| 3. | Let It Die | 2:33 |
| 4. | Left Inside | 5:38 |
| 5. | The Fall | 2:10 |
| 6. | What You Say | 2:27 |
| 7. | Hope That | 3:16 |
| 8. | My City Life | 3:33 |
| 9. | Idle Days | 5:04 |
| 10. | The Haunt | 1:57 |